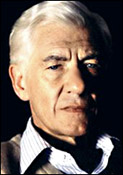 GODS AND MONSTERS
Year of Release: 1998
Cast: Ian McKellen, Brendan Fraser, Lynn Redgrave, Lolita Davidovich
Director: Bill Condon
Writer: Bill Condon
Rating: R
Running Time: 106 Minutes (1 hour, 46 minutes)
Academy Awards: Best Adapted Screenplay.
Academy Award Nominations: Best Actor (McKellen), Supporting Actress (Redgrave).
Based on Christopher Bram's novel Father of Frankenstein, Gods and Monsters tells a fictional story involving the last days in the life of director James Whale. Whale was famous in his early years for directing such horror classics as Frankenstein, Bride of Frankenstein, The Invisible Man, and The Old Dark House. He was one of the first openly gay people in Hollywood history, at a time when being gay in Hollywood was not accepted socially, although it went on behind closed doors all the time. Whale gave up movie-making voluntarily at a relatively early stage in his career and avoided the Hollywood "in-crowd," although he continued to live in his Hollywood home. The last years of Whale's life were lonely, depressing, and all the more confusing due to a stroke. He committed suicide by drowning himself in his pool.
The film is a fictitious account involving a real person, which makes it all the more interesting. Whale (Ian McKellen) suffers a stroke at the beginning of the film which confuses his mind and often sends him into flashbacks of his early days making films, his time of service in World War I, and his first love during the war. Whale lives a lonely life, spending his time painting and bickering with his housekeeper Hanna (Lynn Redgrave), an overly-religious woman who likes to chastise him about his behavior. His interest is piqued when he spots Clay Boone (Brendan Fraser), the new young yard man, cutting the grass. Clay seems to be a stereotypical "tough guy" at first, but his character turns out to be much deeper than that. Whale and Boone form a friendship that is not what you might expect; Boone does not react with violence or hatred to the fact that Whale is a homosexual, and the the relationship between the two does not develop into anything more than a friendship.
But it is a remarkable friendship, one that changes the lives of both men. And this is a remarkable movie. This is one of the first movies in which "gay" is not an issue or the main focus of the movie; it is just a fact. It is not portrayed as being "good," and it is not portrayed as being "bad." The movie is filled with great lines of dialogue, lots of humor, and plenty of behind-the-scenes info for movie buffs (including a flashback to the making of Bride of Frankenstein and a party featuring lookalikes of Boris Karloff, Elsa Lanchester, and Elizabeth Taylor, among others). The ending is perfect and touching, illustrating that Boone's life has been enriched and made better by his friendship with Whale. The moral of the movie is that every friendship we have makes our life better, especially if our friendships are with people who are not the same as us.
The performances couldn't be better. Ian McKellen is absolutely brilliant as Whale; I haven't seen a better performance on-screen in a long time. After a long and distinguished career as a Shakespearean actor on the stage, he is finally gaining the widespread acclaim he deserves with his increasing number of movie roles. As Whale, McKellen is both wickedly funny and heartbreakingly tragic, and his performance was the best of 1998 (regardless of what the Academy says). Lynn Redgrave provides much humor as the frumpy German housekeeper Hanna, whose English could use a little work (at one point she remarks of a horror film, "Your movie is not my teacup"). Brendan Fraser holds his own against these other two heavyweight actors.
The film is astounding in its achievement of equating Whale's loneliness with the loneliness that was reflected in his films by the character of the Frankenstein Monster. Gods and Monsters is a movie that will be appreciated by anyone who enjoys well-crafted, well-acted dramas.




- Excellent