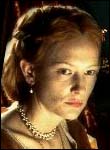 ELIZABETH
Year of Release: 1998
Cast: Cate Blanchett, Geoffrey Rush, Christopher Eccleston, Joseph Fiennes, Richard Attenborough, John Gielgud
Director: Shekhar Kapur
Writer: Michael Hirst
Rating: R
Running Time: 124 Minutes (2 hours, 4 minutes)
Academy Awards: Best Makeup.
Academy Award Nominations: Best Picture, Actress (Blanchett), Art Direction/Set Decoration, Cinematography, Costume Design, Original Dramatic Score.

The story of Queen Elizabeth I, daughter of Anne Boleyn and Henry VIII, has been filmed many times, and the title role has been played by a number of very talented actresses: Bette Davis, Glenda Jackson, and Jean Simmons, just to name a few. But Elizabeth's life has never been as rich and entertaining as it is in Elizabeth, and the title character has never been brought to life as fully as she is by Cate Blanchett.

Elizabeth tells the story of her ascension to the throne, her battle to stay there, and the many problems that she faces because of her position in life. Many movies about royalty show us the good parts of being in a powerful position; this film shows us the downside. Elizabeth faces assassination attempts at every turn, enemies who pretend to be friends, and love that she must give up in order to fulfill her duty to her country. This is a surprisingly dark and violent movie, and the political intrigue reminded me of a contemporary mafia movie. In fact, the ending of Elizabeth very closely resembles the ending of The Godfather.

Cate Blanchett brings a great deal of depth and insight to the character of Elizabeth. She is a vulnerable human being at many times (the scene where she nervously practices a speech before delivering it in public lets us see that a Queen is not all that different from the rest of us), but she can be a stern and strong ruler when she needs to be. The main theme of the movie is Elizabeth's growing up; at the beginning of the movie, she is a naive, cheerful, loving young woman who lets her advisors bully and control her, but by the end she is a worthy ruler who has learned what it is to be a Queen. This coming-of-age is brought vividly to life by Blanchett's superb characterization. It's been a long time since I can remember seeing such a complete and total transformation of a character take place in front of my eyes. The other standout in the cast is Geoffrey Rush, as the murderous Sir Francis Walsingham. Is he treacherous or will he remain a faithful advisor to the Queen? You can't tell it from his eyes, but you know he will be dangerous to his enemies no matter who they are. Rush creates a wonderful character whom you won't soon forget.

Elizabeth is a very beautiful movie to look at. The costumes are breathtaking, the sets are magnificent, and the photography is brilliant. I have read that the movie was photographed in a way that tries to make it look like many of the famous artworks of the period, and this technique works wonders. The lighting and colors work together to create an unforgettable visual effect. That is not to say that the movie is always bright and cheerful; in fact, it is often dark and dreary. No glamorizing here -- England in the 1500s is shown as a very frightening place to live, and it was. At many times the film resembles a Gothic horror movie, with a visual style akin to Bram Stoker's Dracula.

A rich historical film (I'm almost tempted to call it an "epic") with an incredible characterization by Blanchett and a standout performance by Rush, Elizabeth may not please everyone. But if you're in the mood for some history brought vividly to life, this one is well worth your time.




- Excellent